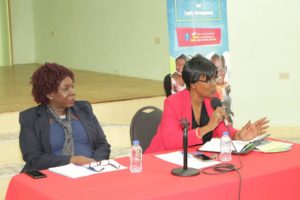 The Division of Health, Wellness and Family Development in collaboration with the Tobago Regional Health Authority continued its series of community meetings in the village of Bethel on February 27 at the Bethel Community Centre.
The meeting was held primarily for residents from Bethel, Mt. Irvine and Black Rock to provide an opportunity for them to share their concerns about the Division's service delivery.
Key issues raised included having a more aggressive approach be employed to ensure non-emergency cases are treated at the primary care level, health services presented in a more attractive manner to target men, and accessibility to a doctor at the Bethel Health Centre at all times. Currently, doctors at the Health Centre are only seen via appointments.
In addition to the open forum, the attendees benefitted from a presentation on strokes and diabetes, which was delivered by Dr. Gerard Antoine, Director, Stroke and Diabetes Centre. The community meetings are part of the Division and TRHA's efforts to engage communities across Tobago to deliver a better level of healthcare to all residents.