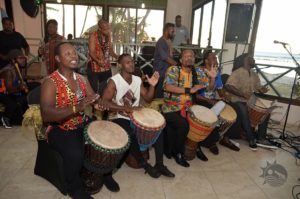 More than 100 Tobagonians graduated from the Arts Push Programme on January 31.
Training was offered in several fields including stilt walking, contemporary dance, West African drum and dance, and costume design.
The Arts Push Programme, an initiative of the Division of Tourism, Culture and Transportation, teaches artists new techniques in their various fields, with the aim of encouraging international standards and industry best practices in cultural showcases.
Tourism Secretary Nadine Stewart-Phillips said arts and culture have a significant role in economic development and must be preserved.
"This Division, in accepting our role and responsibility as guardians of Tobago's cultural art forms, also recognises that human development is key to its preservation," Stewart-Phillips said. Arts and Culture is an extension of human expression; it forms the core of a people's being and the essence of their existence."
Stewart-Phillips commended the graduates on recognising the profitability associated with the arts. She called on them to be "ambassadors" for the Arts Push Programme by encouraging other artists to upgrade their "professionalism".