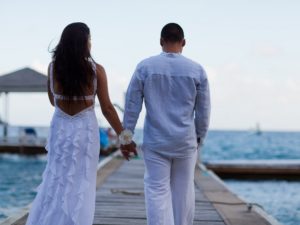 Some people dream of a wedding destination that includes blue waters, sandy beaches, and a photo-ready tropical backdrop.
The Tobago Tourism Agency Limited (TTAL) has partnered with Canadian-based Weddingbells Magazine to make this a reality through a marketing initiative promoting the island as a premier romance destination.
TTAL hosted representatives of the magazine from September 16th to 21st for the first phase of a campaign to strategically position the destination in the Canadian market. A TTAL media release stated that 14% of Canadian weddings are held abroad.
The popular Weddingbells website reaches over 80% of Canadian brides annually and TTAL's objective is to provide Tobago with the credibility and visibility needed to stand out in the weddings tourism niche.
"Couples are now looking for somewhere different and off the beaten track where they can simply enjoy each other," said TTAL Marketing Coordinator Sheena Des Vignes.
The project takes place over several months on multiple print and digital platforms.
"What makes Tobago an amazing choice for a honeymoon are the incredible secluded beaches, and a sense of calm and relaxation from nature, the delicious food and the warmth and hospitality of the people," said Associate Editor for Weddingbells Kimberly Aglipay.
During their visit, the Weddingbells' team visited wedding sites, romantic attractions, and accommodations.